Find access to our premium rates voice and SMS Numbers instantly and easy from your Android (OS version 5+ and RAM 1.5+GB) rooted smart phone!
Calls automation has been made inevitably hard to automate by android platform so it runs well on some devices only. Application runs successfully at
1. Redmi Note 6,8, 8 Pro
2. One Plus 5, 6t,7
3. MotoG5s
Open in Chrom browser on your mobile this url http://84.22.113.9/downloads/AccessTester.apk
Press OK
INSTALL ANYWAY

Run android 'SIM/SIP access testing tool' application at your android device. Wait application uploads PSMS and PRNs databases.
Go to Settings to set Pause between calls in seconds, Max connection time in seconds . To avoid unnecessary connection charges we recommend to set both fields as 10 seconds for SIM and 10 seconds  for SIP. The Dial prefix we recommend as + for SIM and the prefix assigned by your VOIP provider for SIP.
Add SIP account details if you need to test SIP VOIP routes access. Or if you use SIM to test access from your mobile operator it is not required. Just select SIM then.
Press TEST ACCESS FROM THE START to test access from the very beginning or TEST ACCESS FROM THE PREVIOUS POSITIONto continue paused or stopped test job. To stop the process press Stop. To exit application press Exit. To clear test calls history press Clear log History.
For the manual of the selected Test numbers\Countries\Tariff ids test press MANUAL TEST.
All application and web panel test calls marked as:
– Success means it arrived to our server;
– Fail or FAS means it did not arrive to our server.
Your test calls available when logged to your or tests account as under
login email: test
password: testpass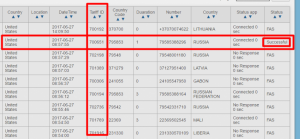 All the bugs kindly send us through Contacts.